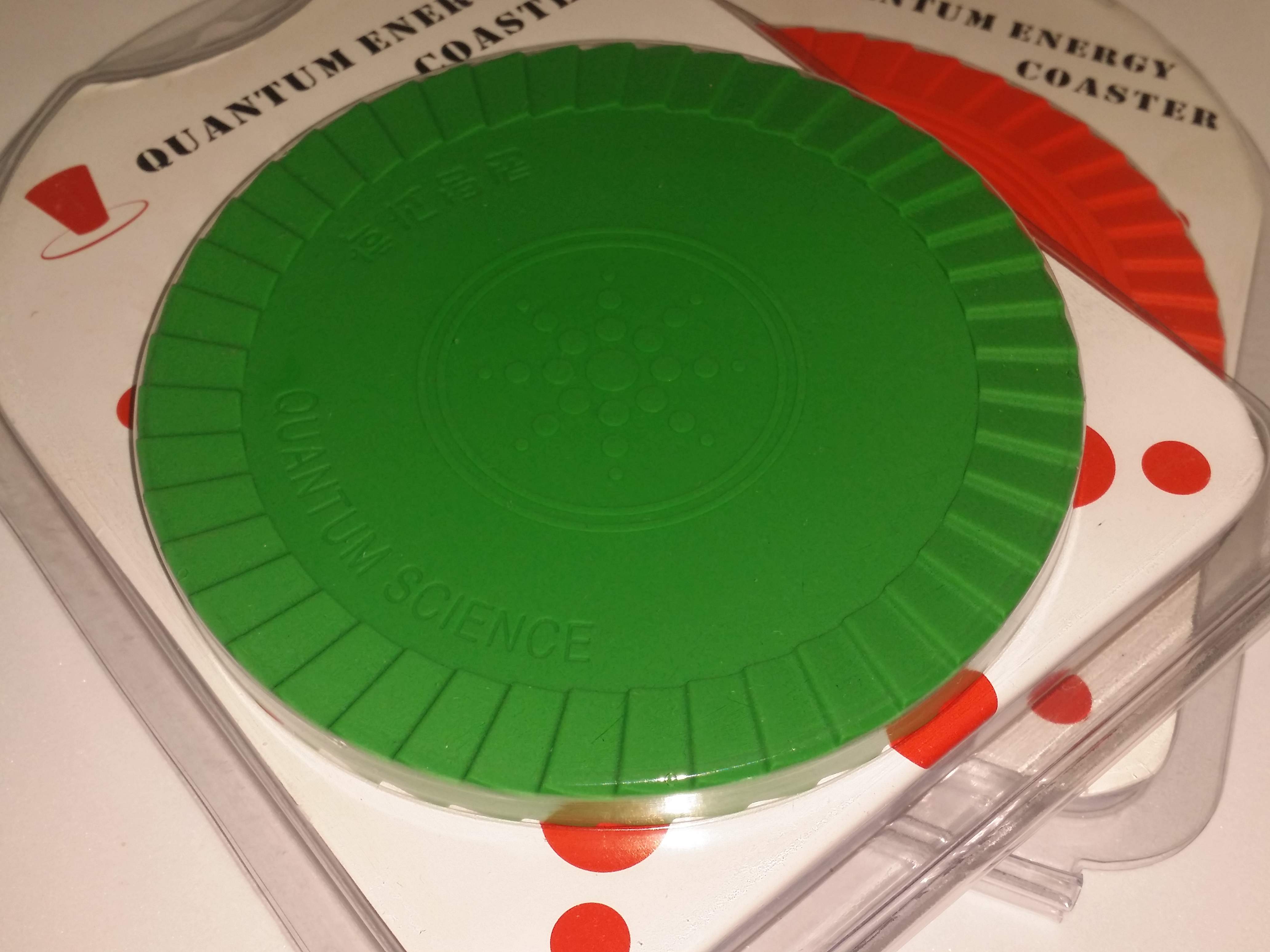 Coaster, groen/green
€12.50 incl. btw*
QUANTUM SCIENCE - Onderzetter met negatieve ionen in groen
De onderzetters zijn van hoogwaardige siliconen en zijn geladen met negatieve ionen. (6000 ionen CC)

Door het gebruik van deze coasters kunnen de clusters van de watermoleculen kleiner worden wat een gunstige werking heeft op water. Chloor in het water kan worden verminderd en het water wordt meer geactiveerd, waardoor het een zachtere smaak krijgt.
De soms zure smaak van sap kan verminderen, wordt zachter en geeft een fijner gevoel in je mond. Doe water, koffie, thee, wijn, etc., - maar ook etenswaren- in een glas, glazen bakje (geen metaal) en laat het even op de energy coaster staan. Alles krijgt een zachtere smaak met een hoger zuurstofgehalte en werkstoffen worden beter opgenomen door het lichaam wat weer goed is voor ons metabolisme. Je verse bloemen blijven ook veel langer mooi! De energie waarmee de onderzetters geladen zijn draait tegen de klok in in je drank of eten en werkt vitaliserend.
---------------------------------
QUANTUM SCIENCE - Coaster with negative ions in green

The coasters are made of high quality silicon substance and are charged with negative ions (6000 CC)
By using these coasters the clusters of the water molecules can become smaller which has a positive effect on the water itself. Chlorine in the water can be reduced, while the water gets more activated/charged and results is a much softer, delicate taste.
Juices often have acid tendencies in taste. This can be reduced and the mouth feeling therefore improves. Any drinks (and foods) like water, coffee, tea, wine, etc. can be poored in glass (do not use metal) and leave it on a coaster for some time. Everything transforms from even tangy into a more pleasant, softer taste. Oxygen content increases and active ingredients are being processed better which is positive for our metabolism.
Also fresh flowers remain fresh much longer! The energy of the coasters turn counter clockwise into drinks and food with body vitalising effect.
Categorie Gezondheid/Health
* Gebaseerd op verblijf in Netherlands. Btw tarieven voor andere landen worden berekend aan de kassa. Prijs exclusief btw: €10.33.